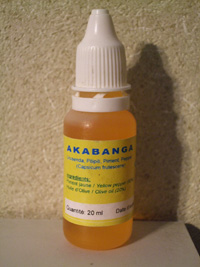 The little bottle pictured above is called Akabanga, a Rwandan hotsauce that the Japanese apparently import. How hot can it be though, right? Japanese blogger Emiko Huruya writes…
How much hot? I try to taste it now, hanging a spoon to drop my taste. Immediately regret. Pins and needles stimulate the tongue…No, really hot. Is said to be the world's most difficult, that reminds me of that spicy habanero…
I'm not sure how Akabanga ended up in Japan but it's fairly popular in Rwanda. Popular enough that Germans are also blogging about it at Das Chiliforum.
A visit to the manufacturer's website reveals…
Akabanga is an extract of yellow peppers from Africa. Its flavor and aroma arouse your appetite and is highly concentrated in so few grams only enough to satisfy your appetite. Hummmm! Quelle saveur!! What flavor!

Akabanga is available from Urwibutso, Nyirangrama at his shop located in the city of Kigali in front of the ancient market Nyarugenge at an opposite terminal Virunga Express. Achetez la un condiment de qualité! Buy a condiment quality!
Next time I'm in Kigali, you can bet I'll track it down.